Smartguncleaning.com was created with only one purpose – to serve the best content on gun cleaning.
Meet The Team:
Owner: Les Waller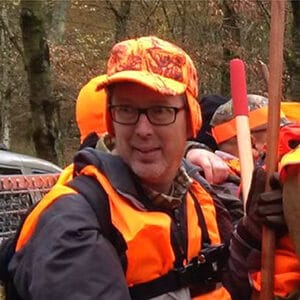 Hello, my name is Les Waller and I am the proud owner of smartguncleaning.com. If you want to learn more about me, continue reading.
Hunting in Southwest Wisconsin
I grew up in Southwest Wisconsin, also known as the driftless region during the last ice age. What does that have to do with anything? Everything! Because the glaciers went around that areas all the hills and valleys remained intact.
That means some of the best hunting areas for rabbit, squirrel and deer can be found right where I was born and raised. Our father taught us the value in hunting because we helped to keep the game population down and we put food on the table. If you got a white tail deer there was enough meat that you could have venison year round.
Some of the best hunting days are either while its raining or after a rain. Why? Because in Wisconsin one of the best ways of getting game was stalking. And, when the ground is wet you can walk that much more quietly.
Ah, but what does that mean for your gun? It means its going to get wet, either directly from the rain or through brushing against bushes that you are walking through.
At the end of the day, once everyone is back home, it is now time to clean our guns whether we fired them or not. We need to remove the moisture that may have gotten in them and on them and put a protective coat over the top of them. Of course, if you were lucky and brought some meat home then that means you need to remove the powder and carbon residue from shooting them, as well.
Those are some of my childhood experiences, but what about as an adult and how my adult experiences relate to guns and keeping them clean?
20 Years as Expert Shooter in USMC
I served 20 years in the United States Marine Corps. I was an expert shooter in both the rifle and pistol. I started with the M1911 .45 pistol and the M16A1 rifle. The .45 pistol was replaced by the the Beretta 9mm and the M16A1 was replaced with the M16A2 (if you are a lefty you know that was a godsend).
Needless to say field stripping and cleaning these weapons was done regularly for maintenance and daily during qualifications. This will also lead to me bringing more relevant content to Smart Gun Cleaning website.
With 20 years in the Marine Corps I respect all veterans and want to help in some small way. Therefore, I have build a website titled, Marine Helping Veterans. You want to help a vet? Then check out this site dedicated to helping veterans of today, tomorrow and yesterday.
I've been in Germany now for over 10 years and have a German hunting license. To get the license you go through a 3-month course learning about pistols, shotguns and rifles. You also learn all about the animals that are available to hunt in Europe.
I'm part of a volunteer organization that provides monthly gun shooting opportunities for those in the area. As part of that, we do gun maintenance on all of the guns that are available to rent on those range days.
Helping Others to Respect and Maintain Their Guns
I saw the opportunity to buy this website, Smart Gun Cleaning, from Robb Manning and purchased it. I want to continue to provide a helpful resource for people who haven't been around guns their entire life and show them how to treat them with respect and how to maintain them. That way their guns will never fail them when going for that bullseye or getting that clean kill shot on that wild boar.
My goal is simple and straightforward: provide more detailed guides for every step in the gun cleaning process for rifles, pistols, and shotguns. While my site is still growing, the idea is that it'll eventually become the go-to resource for gun cleaning guides and tips.
Gun cleaning has a reputation for being boring, monotonous work that takes forever. In my opinion, so long as you clean your guns smartly, this necessary task shouldn't take too long and you'll gain a better appreciation for how your firearms work as a result.
If you're already here, why not drop me a line and ask about anything on your mind? Let me know what you think of the guides so far and if you have any suggestions for cleaning strategies or tips you want me to cover in the future. Thanks for visiting!
If you want to contact me, use the Contact Us page.
Or, you can contact me on Facebook, Instagram, Twitter, or LinkedIn.
Other Sites:
As I love the outdoors and I love nature I've decided to start websites that focus on nature: