Every AR-15 owner worth their salt knows they have to clean their firearms to ensure that they work properly each time they take them to the firing range. No one wants their AR-15's accuracy to suddenly drop off, after all. So it's important to clean your AR-15 thoroughly at least every few times you use it.
But while AR-15 cleaning kits have most of what you need for regular maintenance or repair, they also usually lack a specific tool for clearing away carbon residue from your AR-15's bolt carrier. Therefore, you'll need to get one of the best AR-15 cleaning tools to have everything you need to guarantee your weapon's safety.
What Tools are Necessary for AR-15 Cleaning?
While many AR-15 cleaning kits can handle the majority of an AR-15's maintenance needs, there are a few separate tools that are particularly great for ensuring that your AR-15 works well when needed. Among the most essential AR-15 tools are carbon removal tools.
Carbon removal tools are rigid instruments that are used to scrape out carbon buildup from the interior of your bolt carrier or the bolt tail radius. These tools are necessary because many AR-15 rounds, especially cheaper rounds, will leave behind lots of carbon residue or fouling inside your weapon's barrel or bolt carrier.
These removal tools are shaped like scrapers specifically designed to fit into various components of the AR-15 platform. As a result, you won't be able to use them with other firearms or platforms in most situations.
You can also find AR-15 multi-tools that might contain additional instruments in addition to a carbon scraper. For instance, these multi-tools may have nylon brushes to clean out the weapon's components even further. These are particularly handy for getting into the nitty-gritty details of cleaning your firearm and personally ensuring that it's in peak condition.
Can You Find These in AR-15 Cleaning Kits?
No, not usually. Most AR-only cleaning tools aren't included in most cleaning kits. This is because AR-15 cleaning tools are specifically built and shaped for the bolt carriers exclusively used by the AR-15 platform. They aren't meant to be used for cleaning the entirety of the firearm and its various components.
Therefore, AR-15 owners that want to thoroughly clean every part of their firearm will need to purchase an AR cleaning kit and one of these AR-15 cleaning tools as well. Both must be used in conjunction to ensure proper firearm performance.
Another thing not usually included in cleaning kits is a quality bore cleaner.
---
The Top 5 AR-15 Cleaning Tools
---
1. Carbon Boss .223 Carbon Removal Multitool
Check Price on Amazon Check Price on Real Avid
The Best Overall AR-15 Cleaning Tool
The Carbon Boss tool certainly is a boss when it comes to removing carbon from your AR-15! It's a 16-in-1 multitool that offers some of the widest variety of functions contained in a single AR-15 tool.
This multitool features 12 precision-cut surfaces that can scrape all the major parts of your bolt components. Aside from this main use, the multitool also features a nylon and phosphorous bronze detailing brush, a 360° phosphorous bronze brush, a pin punch and a cotter pin puller.
All of these tools can be accessed via the intuitive triangular frame. You can use all the tools with a single hand. What's more is that the multitool is protected by a ballistic nylon sheath, which you can strap onto your belt to stay mobile and bring your carbon-cleaning capabilities with you on the road.
All in all, this AR-15 cleaning tool is among the best of the best in terms of sheer versatility and ease of use. We'd recommend it for anyone wanting to keep their AR-15 in tip-top shape.
What We Like:
Features an innovative triangular shape
Has a protective sheathe for easy carrying
Features tons of tools/surfaces for carbon cleaning
---
2. Gerber eFECT Weapon Maintenance Tool
No longer available on Amazon
The Best Heavy-Duty AR-15 Cleaning Tool
This is a heavy-duty AR-15 cleaning tool from Gerber, who are well known for their long-lasting knives and tools. This AR-15 cleaning tool is built specifically for use with the M16, A4 and M4 variants of the AR-15 platform, which you can see from the shape of its carbon removal elements.
The entire tool can be collapsed into a compact, palm-sized device much like a pocketknife. When you're ready to scrape away carbon from your AR-15's components, you can extend the scraper tools from the main body and get to work.
There are scrapers on either end, each designed for a different edge or component. There's also an additional pin punch tool integrated into the collection. But that's not all.
Gerber also included a front sight adjustment tool and a magnetic attachment. They packed quite a lot of value into this miniature device, making it well worth the asking price in our eyes. We'd recommend it for AR-15 enthusiasts who need a compact tool that can fit in their pockets.
What We Like:
Very small size, easy to collapse
Super heavy-duty material
Includes a few extra tools for convenience
---
3. Combat Application Tools Barrel Scraping Tool for Gun Cleaning and Maintenance
The Simplest AR-15 Cleaning Tool 
Combat Application Tools brings simplicity and elegance to the AR-15 cleaning tool competition. Just looking at this tool, you might not immediately understand how it can be so valuable. But its simplistic design hides its overall value.
This AR-15 cleaning tool uses its singular shape to include a bolt cleaner and scraper at the twin-pronged end, plus a carrier cleaner and scraper at the far end. Directly next to that edge is a patch hole, through which you can thread cleaning patches to quickly wipe away grime or grease from your AR-15's internal components.
Then there's the included ¼" hex head located near the center of the tool. Finally, there's a firing pin cleaner located directly beneath the twin prongs mentioned before. All that can be found on this tool's single metal piece!
It's a phenomenal AR-15 cleaning tool, particularly for those gunsmiths or enthusiasts who dislike more complicated instruments. This tool will never break down or buckle, especially since it's constructed from high-quality steel. All in all, it's a perfect choice for regular AR-15 maintenance in the field or while on an expedition.
What We Like:
Simplistic design means it won't break
Lots of value contained despite the small size
Easy to carry/store
---
4. Real Avid 5.56mm Scraper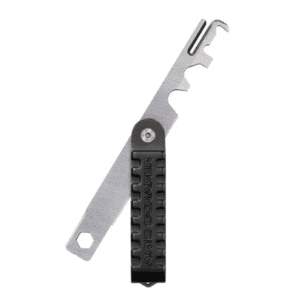 Check Price on Amazon  Check Price on Real Avid
The Best AR-15 Cleaning Tool to Add to a Cleaning Kit
Real Avid does fantastic work when it creates high-quality tools for cleaning AR-15s and other firearms. This tool demonstrates their expertise perfectly.
While it's a simple instrument, it does the job of carbon scraping very well. It can get rid of carbon from all the gas piston surfaces of your AR-15, from the firing pin to the piston shaft to the bolt face. You'll notice that the precisely carved designs on the tool's edges make it an ideal fit for AR-15 components.
But it has other benefits, as well. This tool features a specially designed slot that can help you open the gas to the access lever on your AR-15. It can also function as a flat driver for pistol grips or as a .25" bit driver.
All this versatility comes at an affordable asking price and in a small size. It's a perfect addition to an otherwise complete AR-15 cleaning kit and is well-suited for gunsmith work or amateur maintenance alike.
What We Like:
Affordable for most
Versatile uses beyond carbon cleaning
Durable metal construction
---
5. Otis B.O.N.E. Tool 7.62mm FG-276

The Best Long-Term AR-15 Cleaning Tool
Otis does a great job of creating quality gun maintenance gear and tools, and their B.O.N.E. instrument is a perfect example. It specifically designed for 7.62 rifles and can easily clear a bolt carrier assembly and all its components, including the firing pin.
It also includes a threaded hole that can turn it into a T-handle for easy maneuvering with a cleaning rod. As such, this tool is another great addition to an AR-15 cleaning kit that already has such a rod. Just make sure that you have a good loop or cable to tie them together.
Gun experts will appreciate the quality construction of this tool, including its durable metal material. As a solid piece of steel, this tool is built to last for many years to come even under heavy use. Therefore, you can purchase this AR-15 cleaning tool for a single asking price and likely never need to buy another.
What We Like:
Very sturdy steel construction
Can act as T-handle for cleaning rods
Excellent design for AR-15 platform
---
Conclusion
No matter your preference, the best AR-15 cleaning tool for your needs should always do a great job of clearing away carbon particulates from your bolt carrier and other components. So long as it can accomplish this, anything else is a bonus. Good luck and thanks for reading!
FAQ
What tools do you need to clean an AR?
To clean an AR, you will need several essential tools, including a cleaning rod, bore brush, chamber brush, cleaning patches, cleaning solvent, lubricating oil, and a cleaning mat or workbench.
What can I use to clean my AR-15?
You can use a combination of cleaning solvent, lubricating oil, and appropriate cleaning tools to clean your AR-15. It's important to use solvents and lubricants specifically designed for firearms.
How many rounds should you clean your AR-15?
The frequency of cleaning your AR-15 depends on factors like usage, ammunition type, and environmental conditions. As a general guideline, it is recommended to clean your AR-15 after every 250-500 rounds, or whenever it shows signs of excessive fouling or malfunctions.
What is the best tool for cleaning a rifle barrel?
One of the best tools for cleaning a rifle barrel, including the AR-15, is a bore brush. Bore brushes are specifically designed to remove fouling and debris from the barrel. Additionally, using a cleaning rod with a jag and patches is also effective for barrel cleaning.
Related Topics: