At one point in everybody's gun cleaning journey, they will fall out with their cleaning towel…the oil-stained, smelly, but reliable towel which has been with you since day one is no longer cutting it.
When you reach this point, the next step up is to buy yourself a gun cleaning mat. Now, choosing the right mat isn't just as simple as click and buy. There are things you need to consider if you want a mat which will suit your cleaning style and gun.
Do you clean while at the ranges or on your tailgate? Do you only have handguns, or do you have rifles or shotguns? These are all questions worth asking yourself before investing in a mat.
Why? Because you don't need a rifle mat if you're only cleaning a handgun. There isn't anything wrong with it, but it may just take up too much space. If you're bad with tiny screws and pins, then maybe a mat with a built-in parts holder will be more suitable.
We will take you through a range of the best mats on the market, and we are sure you will find out to suit your gun and to save you from many spoiled kitchen tops and arguments with your partner.
Why Should You Consider Buying a Gun Cleaning Mat?
Throughout summer, cleaning your gun in your garden or garage is super easy and rarely causes an argument. However, in the depths of winter, you probably don't want to squirrel away inside your sub-zero garage fiddling with oils and solvents.
When cleaning guns, it is all too easy to knock over your bottle of solvent or oil accidentally. These types of products contain chemicals that will eat away at surfaces like wood. They can also stain surfaces horribly.
A good quality gun mat will allow the spilled liquids to bead up and stay on the surface of the mat; you can then wipe it away with a rag or tissue roll. Some mats may absorb the chemicals which are excellent as well, but these may need cleaning more often, so they don't stink out your room or storage.
A good quality gun cleaning mat doesn't cost the earth, and they will allow you to clean your guns inside your house without damaging your kitchen table or any other surface you want to work on.
They will absorb oils, solvents, and chemicals while protecting your gun from scratches, bumps, and scrapes. They are easy to roll up and store away without taking up hardly any space, and if you're heading away from home, they fit in your kit bag without an issue.
---
The 7 Best Gun Cleaning Mats
---
1. TekMat Gun Cleaning Mat
Check Price at TekMat  Check Price on Amazon
Best Rifle Cleaning Mat
TekMat is a name we do not need to call out twice. They have been making some of the finest gun cleaning mats for a few years now, and they continually improve the quality and durability of their mats to cater to the ever-changing landscape.
TekMat was started by the owner Dan. Dan thought it was wise to clean his AR-15 on his dining table using his wife's dishcloths. Dan's wife wasn't happy; I am sure something we can all relate to, so being the wonderful person she must be, she purchased him a gun cleaning mat.
Dan quickly found out the mat he was gifted wasn't particularly useful. It would stain easily; it wouldn't stay in one place, and to top it off, the fiber hairs of the mat would get stuck to the newly applied greased gun parts.
Dan had enough. He set out to create the best gun cleaning mats the world has ever seen. TekMat was born.
What stands out with TekMat gun cleaning mats is the prints on each mat. They do owner's manual type prints for a wide range of guns. Depending on what firearms or firearms you have, you can get one to match each gun.
This means you can clean your gun without needing to reach for the owner's manual.  You can see all parts detailed enough to strip down your weapon and rebuilt it just from the mat!
The TekMat AR15 mat is made from a soft thermoplastic fiber surface, which you can rest your long gun on without getting a scratch. Underneath there is a 3mm neoprene rubber back, which will stop your mat slipping and sliding from under you and protect your work surfaces.
The thermoplastic fiber surface is waterproof, scratchproof, fade, and oil resistant. This mat is designed to fit your AR15 on comfortably and measures 12×36″.
Overall this is a great large sized mat that will keep your gun safe while you clean. Any oils, lubricants, or solvents you may spill will be easy to wipe up, and you won't be damaging any of your worktops!
Check our guide on which are the best AR-15 cleaning kits.
What we like:
Thermoplastic waterproof surface

AR15 printed parts diagram

Neoprene non slip back

12×36″ large mat

Designed in Salt Lake City, UT
---
2. Gun Cleaning Mat by Sage & Braker
Most Practical Gun Cleaning Mat
If you have read our best gun cleaning oil guide, you will know how well respected Sage & Braker is in the gun cleaning world. We love their ethos about how caring for the environment is important for future generations.
They aim to make their products to represent their morals, and we fully respect their stance on the subject.
What makes them stand out that little bit more is that they stick to their morals while producing excellent quality gun cleaning products.
Their CLP is one of the best natural products on the market and not surprising their gun cleaning mat is being raved about from all over the US. Not surprising, though, as it isn't just a gun mat.
They are crafted from 12. Oz canvas, heavy wool, and thick leather Sage & Braker intended this cleaning mat/bag to stand the test of time. In their own words, 'This mat was built with the intention of passing it down through generations.'
When rolled out, the cleaning section of this bag measures a whopping 69×16″ and is ½" thick. That makes this cleaning mat extremely portable when rolled up, but when you're set for a big clean, you can leave multiple guns on it and a bottle of bourbon.
Sage & Braker made this mat not just portable but also functional. It comes with four pouches, which will hold your brushes, oils, solvents, and sprays. It was designed to hold two bore cleaning kits and has space for your rags.
The waxed canvas, heavy wool, and thick leather stop any liquids or solvents leaking through and does a great job of protecting your work surfaces. The sheer size of this rollout mat means it hardly moves when you're cleaning.
The best thing about this mat? Well, once you're done with your clean, whether that is at the kitchen table, back of your truck, or even out on the hunt, you can roll it back up into a carry pouch and throw it back in your vehicle or your backpack.
Final thoughts about this cleaning mat? Well, it looks incredible. If you have the money to spend as it isn't the cheapest cleaning mat around, you certainly wouldn't mind being seen with this. It talks the talk and walks the walk.
What we like:
Huge 69×16″ size

Portable – rolls up!

Multiple pockets for storage

Looks amazing

Made from Canvas, wool, and leather
---
3. Gun Cleaning Mat by UsefulThingy
Best Budget Gun Cleaning Mat
Well, we all need a budget mat. The UsefulThingy store is an online shop that sells gadgets and bits. They currently only sell two types of gun cleaning mat, 1 x AR15, and 1 x AK47.
They are both pretty much the same in specs the only thing that changes are the pictures. This is our choice and many other peoples if you're looking for the best gun cleaning mat on a budget.
This cleaning mat looks great; it is made from soft, thick, and durable material that won't scratch your gun. It has a neoprene base that sticks to surfaces so you won't have any accidents when stripping your weapon of choice.
The mat itself has been made from a superabsorbent material, so any solvents, oils, or lubricants which get dropped will get soaked up. This mat will protect most surfaces from what otherwise could be costly damages.
Once you're done cleaning, it rolls up and tucks away back into your cupboard or on your shelf. The AR-15 owner's manual type printing is clear and easy to read. You can use this for any gun, and it is excellent for long guns.
If you are using it for your AR15, though, the diagram and wording are clear enough for you to strip it down and rebuild it without needing to reach for YouTube or your manual.
This is simply a cheap and cheerful cleaning mat. No wonder it is one of the highest-rated mats online.
Check how to clean your rifle.
What we like:
Cheap

Durable

Won't scratch your guns

Non-slip base

Absorbs oils, lubricants, solvents

Rolls up when done
---
4. Real Avid AR-15 Smart Gun Mat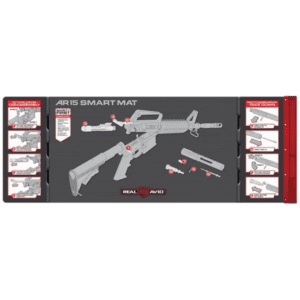 Check Price on Amazon  Check Price on Real Avid
Best Worktop Gun Cleaning Mat
Real Avid is a company after our own heart. There is nothing but pure American spirit in everything they create. The company prides itself on supporting its customers' goals and dreams.
They design products to make your life easier, but also to help you enjoy your downtime. They currently have a range of gun maintenance tools, including multi-tools for popular guns like the AR -15 or multi-tools to maintain all weapons, bench tools, and more.
What we are excited to talk about is their gun maintenance mat. Why do we think this mat is one of the best gun mats around? It is quite apparent really; it is one of the only gun mats around with a built-in parts tray.
It may seem like a little thing to those who don't know. If you have cleaned a range of guns, though, you will soon learn that keeping track of fiddly tiny screws can be a nightmare. Thankfully Real Avid came with an ideal solution.
The parts keeper is built on to the end of the Smart Mat. It is a tray the width of the mat and provides a few small sections and one long section for putting screws, cleaning rods, and more. It is magnetic, so even if you tip the table, you won't be losing them tiny pins, springs, or screws.
The Smart Mat itself is 43×16," which is more than enough room for a couple of handguns or a disassembled semi. The back of the mat is non-slip, so your safe from any slippage.
If you end up spilling any solvents, oils, or lubricants, they will bead up and wipe away. Once you're finished with your maintenance or clean, you can roll the mat up and put it back in your store cupboard.
If organization is your thing, then the Real Avid Smart Mat is a great tool, and you certainly won't regret having it in your range bag.
What we like:
Non-slip

Any spillages bead up

Built-in parts storage

Magnetized section for screws, pins, etc

Oil and solvent resistant
---
5. Long Gun Cleaning Mat by Falko
Best Thick Gun Cleaning Mat
Falko Tactical has been producing some great quality gun cleaning and maintenance tools for a while. They pride themselves on creating products that are easy to use and do a damn good job.
They go the extra mile to make sure their products stand out that little bit more by using higher quality materials than competitors, and they do that while staying in an affordable price range.
The Falko Long Gun Cleaning Mat was designed for the AR15, but it is suitable to use for shotguns, m16s, m4s, and pretty much any long gun. It measures 36×12″ and has more than enough room to work comfortably.
It isn't the widest mat on the list, but if you work on a smaller table or space is an issue, then this will do the perfect job. If you do end up spilling anything, it will just bead up, and you can wipe it away with paper towels or a rag.  
It is resistant to oils, solvents, and chemicals. It also has a non-slip back to avoid any accidents.
This mat measures in at ¼" thick and offers plenty of protection. It is very durable, and they claim it is one of the thickest tech mats available online.
As with most large gun mats, this has an exploded diagram of an AR15 printed on. Unlike some mats, it is straightforward to read, and you will have no problem using it to strip down your AR and reassemble without a paper manual.
It is resistant to oils, solvents, and chemicals. It also has a non-slip back to avoid any accidents. Once done, you can roll it up and store it away.
You should also consider getting a good gun vise to clean your firearm easier.
What we like:
Thick material

Clear view AR15 print

Long but not wide. Great for smaller work areas

Perfect for long guns
---
6. Real Avid Handgun Smart Mat
Check Price on Amazon  Check Price on Real Avid
Best Handgun Cleaning Mat
Oh yes! When you create a gun cleaning mat as great as Real Avid did, then it is only fair you replicate it for more guns. The Real Avid Smart Mat is a brilliant mat for long guns, shotguns, and rifles.
However, what about handguns? We do often see way more mats aimed at larger than life assault rifles, but they can take up a whole heap of space if you're trying to clean your Glock. Check how to clean your handgun.
Thankfully though, Real Avid stepped in to save the day. The handgun Smart Mat measures in at 19×16″, making this the smallest mat on our list, and the perfect size for any handgun maintenance.
As with the Universal Smart Mat, this smaller version is still built on the premise of organization. It comes complete with the 'parts keeper' tray at the right-hand side of the mat.
The tray is perfect for any screws, pins, and springs, and it also has a magnetized compartment so you won't lose tiny parts to the fibers of the carpet. It is resistant to solvents, oils, and cleaners; they will bead up if spilled, and you can wipe away.
It comes with a non-slip back, and just like its bigger brother, once you're done with your clean or maintenance, you can roll it up and store it away. It comes in four different varieties, and three of them have clear user manual parts type print on them.
What we like:
   Perfect for handguns

   It comes in 1911, Glock, and M&P editions as well as plain.

   Magnetized parts tray

   Non-slip

   Durable and strong
---
7. Dry Mate Shotgun Cleaning Pad
Best Shotgun Cleaning Pad
Dry Mate is the simplest and most straight forward mat we have on this list. Dry Mate has been making mats and pads for years. From your bike to your pets, Dry Mate has a pad that will keep your floors clean and dry.
Their Gun cleaning pad is another excellent product from a company that specializes in this area. The pad measures in at 54×16″ which offers ample room for shotguns and long-guns. It also comes in multiple sizes, including handgun size.
The top of the mat is a fibrous polyester with soft non-slip backing. If you do have any accidents, the fibers will soak up any oils, solvents, or chemicals, and you can hang it out to dry.
The bonus with the Dry Mate? It is the only gun cleaning mat on this list, which is machine washable.
It is super soft to the touch, so you can guarantee it won't scratch your guns, and it will protect any surface you're working on. Once done, you can roll it up and stick it in your storage.
If you are interested in how to clean a shotgun, look no further.
What we like:
Comes in multiple sizes

Fibrous soft topping

Large size

Machine washable
---
Gun Cleaning Mat Care
There isn't too much that goes into caring for a gun mat. However, there are a few things you can do to preserve the integrity of your mate and make sure it is always working optimally.
Don't put in a washing machine or tumble dryer
Unless it specifically states on the manufacturer's instructions' washing machine safe', we suggest you never do this. There is a high chance you will ruin your mat. Never put your mat in a tumble dryer.
Wash with warm soapy water and a sponge
The best way to clean your mat is to wash it with warm soapy water and a sponge gently. Then hang dry.
Wipe away chemicals ASAP
If you spill anything on your mat, then it is best to clean it up straight away. Although the mats are resistant, continued exposure may cause discoloration or degradation.
Take care with knives
If you clean anything else, but your guns on your mat, then take extra care. Sharp objects could rip your mat without you noticing, which could then leak chemicals all over your work surface area.
FAQ
Can you wash a gun cleaning mat?
Yes, gun cleaning mats can usually be washed. It is recommended to check the manufacturer's instructions for specific cleaning recommendations. In general, most gun cleaning mats can be hand washed with mild soap and warm water. Make sure to thoroughly rinse and dry the mat before using it again.
What is TekMat?
TekMat is a brand that produces gun cleaning mats. TekMat gun cleaning mats are designed to provide a protective surface for cleaning and maintaining firearms. They are made from durable materials and feature printed diagrams, instructions, or designs related to specific firearms models.
Where are tekmats made?
TekMats are proudly made in the United States of America. The company focuses on producing high-quality gun cleaning mats domestically, ensuring attention to detail and adherence to quality standards.
Should you let a gun dry after cleaning?
Yes, it is important to let a gun dry thoroughly after cleaning. After cleaning the gun with appropriate solvents and lubricants, allow it to air dry in a well-ventilated area. This ensures that any residual moisture evaporates completely, preventing potential issues like rust or damage to the firearm.
What is the best DIY gun cleaner?
A mixture of equal parts of white vinegar and water makes a simple and effective DIY gun cleaner. However, commercial gun cleaning solvents are specially formulated and often more reliable for optimal firearm maintenance.
Why use a gun cleaning mat?
Gun cleaning mats provide a protective surface to work on, preventing scratches and damage to firearms and work surfaces. They also help contain cleaning solvents and debris, making cleaning easier and more organized.
Are gun cleaning mats worth it?
Yes, gun cleaning mats are worth it for gun owners who regularly clean their firearms. They offer a dedicated, non-scratch surface for cleaning and maintenance, protecting both the gun and the cleaning area.
Can you clean a gun too much?
Yes, cleaning a gun excessively can be detrimental. Over-cleaning may remove necessary lubrication, wear down components, or introduce new contaminants. Clean your gun as needed based on usage and follow the manufacturer's recommendations.
Should I clean my gun after every time I shoot it?
It is generally recommended to clean your gun after every shooting session. Shooting introduces fouling, residue, and moisture, which can cause corrosion and affect the gun's performance. Regular cleaning ensures reliability and longevity.
Should you clean gun immediately?
Yes, it's best to clean a gun as soon as possible after shooting, especially if corrosive ammunition was used or if the gun was exposed to moisture. Immediate cleaning prevents fouling from hardening and becoming more challenging to remove.
What gun is easiest to clean?
Simple, single-action firearms like revolvers are generally easier to clean due to their straightforward design. Bolt-action rifles and shotguns with fewer moving parts can also be relatively easy to clean compared to complex semi-automatic firearms.
Related Topics: