Top 3 Professional Gun Cleaning Kits
by Les Waller
What is it that makes up the best universal gun cleaning kit? Since we are talking about universal gun cleaning kits, it should be able to cover a wide range of caliber weapons. That means from as small as .17 caliber to as large as .50 caliber. The rods should be strong enough to last and not easily break or bend so you can't use them. The jags should fit all calibers between the largest and smallest.
There should be a variety of brushes made from different materials to handle different surfaces. The gun cleaning kit should have a variety of cotton mops and slotted loops. It should have some patches to get you started, although later you will want to buy these in bulk to keep their prices down. Having empty oil bottle are not required, but nice to have for the convenience of carrying a small bottle in your pocket.
Finally, we have the tool box or case that holds everything together. For ease of comparison I selected all black cases, but for most of these you have a selection of colors for you to choose.
You want to be able to open up just one gun cleaning kit universal and sit down with your handguns, rifles, and shotguns and clean them. Everything that you need should be within arms reach as you go through each weapon. Before you know it, the job is done and they are all ready for the next target practice or hunt.
1. Otis Technology All Caliber Elite Range Box with Universal Gun Cleaning Gear in Black Case
Otis Technology is a family owned and operated company that was established in 1985. They have their own Amazon store and their own Otis Technology web page. However, I see that the Amazon prices are quite a bit lower than their own web page prices. It holds a 4.5 star rating with over 500 ratings on Amazon.
One thing to note is that this kit does not come with any rods. All the bore punching is done using the ripcords. I haven't tried that before, if you have let us know in the comments what you think about a rod versus a ripcord for bore punching.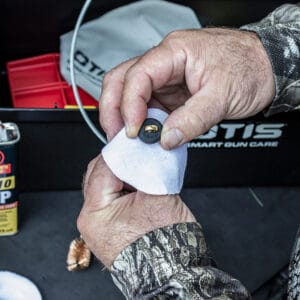 Most of these higher end kits come with solvents and/or oils. You won't have to order it separately like you would with the mid-range Universal Gun Cleaning Kits we reviewed recently.
Contents
1x toolbox with tray
17x wire brushes
1x scraper
1x locking lug scraper
1x straight pick
1x pin punch
1x nylon end brush
1x compact receiver brush
1x male & female rod handles
3x slotted tips; shotgun, .30 cal, .22 cal
2x obstruction removers; .30 cal and .22 cal
patch savers
1x 8″ cable with .30 cal slotted tip
1x 2″ cable
1x 4″ .17 cal cable1x 6″ cable
4x ripcords; .22/.223 cal, .30/.308 cal, .38 cal/9mm, & 12 ga
1x chamber flag
1x B.O.N.E Tool
2x bottles FP-10 Lubricant Elite; 0.5 oz & 4 oz, interchangeable tips
1x 10cc syringe of grease
Made in USA
What I like
Made in the USA!!!
This kit contains 2 plastic panels with U shape which slide into slots in the ends of the lower portion of the kit. This allows for long gun barrel support (rest) while working on the firearm.
2. Shooter's Choice Bullseye Box Universal Rifle, Pistol, Shotgun Cleaning Kit
Shooter's Choice is a US business that has been around for 30 years. They have their own Amazon store and their own Shooter's Choice web page. I see that the Amazon prices are slightly higher than their own web page prices. It holds a 5 star rating with over 7 ratings on Amazon at the time of this writing.
One thing to note is that Shooter's Choice specializes in producing their own oils and solvents. If you look up at the Otis Technology professional gun cleaning kit, you will notice that the lubricant and grease are both Shooter's Choice products. That should tell you something about their products, right?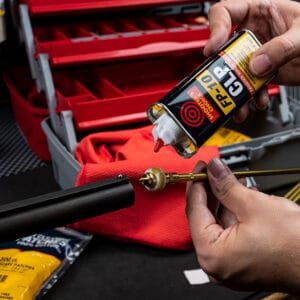 Shooter's Choice is based out of New York, USA.
Contents
1x toolbox with pull out trays
9x wire brushes
9x mops
7x jags
obstruction removers
2x solid sectional rods
3x all-purpose brushes; nylon, stainless steel, & bronze
50x pipe cleaners
100x 1″ cleaning patches
100x 2.5″ cleaning patches
100x cleaning swabs
3x microfiber gun towels
1x lens brush
1x dust brush
2 oz MC-7 cleaner
2x bottles FP-10 Lubricant Elite; 0.5 oz & 4 oz
1x 10cc syringe of grease
1x 6 oz bottle rust prevent
Made in USA
What I like
Made in the USA!!!
I like that the tool box with pull out drawers. I like that it is a US company and they make their own solvents and oils. Shooter's Choice has been around for 30 years, so I don't think they are going to disappear anytime soon.
3. RamRodz #70035 Professional Gun Cleaning Master Kit with Solvents and Cleaning Mat
RamRodz is a US company based out of New York. RamRodz has their own web page as a manufacturer of innovative gun cleaning products. The prices on their web page are lower than the prices you will see on Amazon.
Before you get all huffy, let me explain why. RamRodz does not sell directly on Amazon. That means that other resellers are setting up Amazon stores and selling RamRodz products. This is not uncommon and actually a way for small entrepreneurs to earn money online. I have a small website that talks all about working from home, called Marine Helping Veterans, but that's not why you are here.
One of the reasons that I shop Amazon is that I like their quick, efficient delivery service. I also know that if I need to return something it is pretty painless. The bottom line is, when you are looking for something on the internet look for the best deal.
Having said that, if you go to the link above you will notice the seller is actually SWFA Outdoors out of Texas and not RamRodz. So, when you are dealing with customer service it's SWFA Outdoors customer service.
Contents
8x Standard Bore Brushes; .22 to .75 & 5mm – 12 ga
3x Long Micro-Tube Brushes; 1/8″, 1/4″, & 5/16″
3x Double-Ended Specialty Brushes
2x Double-Ended Picks
1x Interlocking-Claw Tweezers
1x Pull-Through Cable and Push Rods with Thread Adapters
1x Cleaning Mat
1x Portable Work Tray
1x Cleaning Solution
1x Lubricating Oil
1x Silicon Oiling Cloth
500+ Precision Cleaning Swabs
Made in USA
What I like
Made in the USA!!!
I like that the case has a 4-layer design with a mat and portable work tray. I like that they produce their own solvents and have size specific cotton swabs.
Conclusion
Well, after have spent some time going over the various professional gun cleaning kits it is really hard to make a decision as to which one I would buy. I like the organization of the tool boxes with Shooter's Choice and RamRodz. I also like that they both produce their own solvents and oils.
I guess you'll have to decide which one is best for you. Let me know in the comments if you bought one of these and why you bought that one over the others.
Remember, a clean gun is a happy gun!
FAQ
How much does a U.S. Army soldier's kit cost?
The cost of a U.S. Army soldier's kit can vary based on factors such as the specific components and brands included. However, a basic cleaning kit can range from $20 to $50, while more comprehensive kits with additional tools and accessories can cost upwards of $100.
Is Hoppes 9 good for cleaning guns?
Yes, Hoppes 9 is a widely recognized and popular gun cleaning solvent that has been trusted by many gun owners for decades. It is known for its effective cleaning properties and ability to remove fouling, carbon deposits, and other residues from firearms.
What is the best rifle cleaning process?
The best rifle cleaning process involves field stripping the firearm, using a bore brush and cleaning patches with a suitable solvent to remove fouling, then lubricating moving parts with gun oil. Follow the manufacturer's recommendations and safety guidelines for proper cleaning.
Should I clean my 22 rifle after every use?
Cleaning a 22 rifle after every use is not always necessary. It depends on the level of fouling and the number of rounds fired. If accuracy declines or fouling is visible, it's time for cleaning. Otherwise, periodic maintenance suffices.
How often do you clean a 22 rifle?
The frequency of cleaning a 22 rifle depends on usage. For casual shooting, cleaning after every few hundred rounds or when accuracy is affected is adequate. Regular maintenance helps maintain performance and longevity.
Do Snipers clean their barrels?
Snipers clean their barrels regularly to maintain accuracy and consistency. They typically follow strict cleaning protocols, using specialized cleaning tools and solvents, to ensure the barrel remains free from fouling and debris.
What are the main differences between the Universal Gun Cleaning Kits and the Professional Gun Cleaning Kits found on this page?
One of the biggest differences is that all the Universal Gun Cleaning Kits are made in China. The sellers made be US based, but the actual companies and manufacturers are based in China.
The professional gun cleaning kits are all US based and US manufactured kits. All the above Professional kits include solvent and oil, as well.
Related Topics: